---
Sandy Springs
​Buckhead GA

​Have questions?
Call (404) 255-8382

E S T A B L I S H E D I N 1993

For enrollment, visit About Us tab or call
(404) 850-8945
---
Private Lessons:

​Piano - Violin - Viola - Ukulele - Guitar - Accordion
Clarinet - Saxophone - Flute - Recorder - Percussion
Voice - Music Theatre - Chess
*Our monthly tuition for private lessons is the lowest in the area!*
EXPERIENCE A TIME-HONORED WAY TO LEARN & APPRECIATE MUSIC...
​​"THE EUROPEAN SCHOOL OF MUSIC PLAYED AN INTEGRAL ROLE IN MY DEVELOPMENT AS A MUSICIAN. I WOULD NOT BE WHERE I AM TODAY WITHOUT THEIR TEACHING, MENTORSHIP, AND PATIENCE."

​​​-Drew Silverstein, European School of Music Graduate,
Hollywood Composer, Co-Founder and CEO of Amper Music
Our method...
​Handing down a special touch which makes the instrument sing. Developing, with practice, a response ... a feel .. a relationship with the instrument ... until the music becomes part of you, and you become part of the music.
The goals of European School of Music are to teach students how to love playing music instruments, feel the music and truly appreciate it, as well as significantly develop intellectual capabilities, through the enormous power of music and chess. ​
Photo Credit: Svetlana Skcphotography
​Piano Duo (student and teacher) performance on the stage
​at our beautiful acoustic concert hall used for student recitals.
EXERCISE FOR HEAD AND HEART...
​There's more to playing an instrument than learning the notes. It's also about understanding and truly feeling the music. This simple, yet unique teaching philosophy has quickly launched the European School of Music into the spotlight among top music schools in the Southeast.
​The European School of Music offers course of study for children (5 years and older) and adults, both beginning and advanced. Instructors tailor the educational experience to meet individual needs, whether a student is preparing for entrance to a highly competitive conservatory or taking lessons for pure pleasure and relaxation.
​"The European School of Music helped shape the musician that I am today. From my studies at the School I learned how to develop my own individual voice at the piano and was offered a unique approach to music and art. The techniques and methods I acquired prepared me for my journey as a pianist in the professional music world."



- Benjamin Warsaw, PhD. Graduate of the European School of Music, Eastman School of Music, Boston University. Professor of Music - Piano, Armstrong University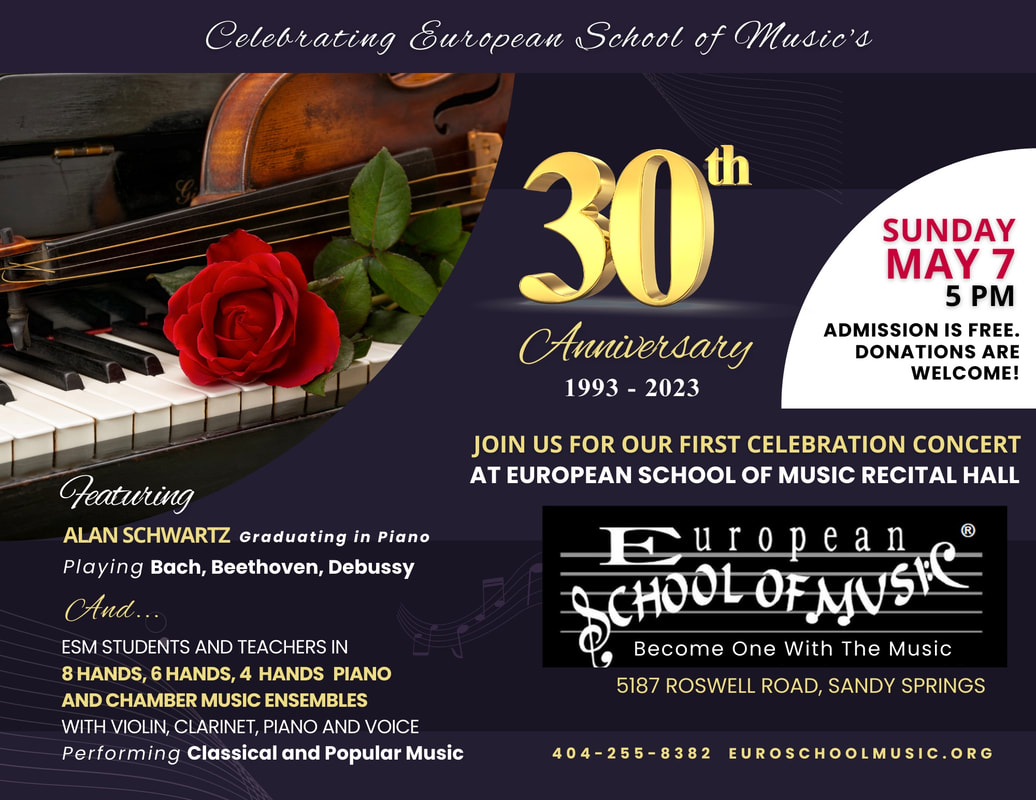 Please subscribe to our new YouTube channel,
The Conservatoire
.
It contains videos featuring performances of ESM students from beginners to advanced,
plus beautiful images of nature showing the connection between music and nature.
---
What's New at European School of Music...
Mommy & Me "Exceptional Learning Through Music" Program includes music games, songs, dances, exercises & fairy tales with music and nature themes, accompanied by live sound on ukulele, piano, xylophone.

Suitable for ages 0-4,
​10 classes per session

At each class, children will gradually learn to coordinate movements and control their bodies, to develop speech and an ear for music. The small group setting will enhance social communication and making friends, plus give you quality time with your child. The development of rhythm, pitch, creative expression, and fine motor skills through these classes will help your child become ready to learn handwriting and prepare for piano, violin, or voice lessons.

Class Days & Times:
Wednesdays 3:30-4:15 PM, Saturdays 9:15-10:00 AM
---
New! Private Lessons in Clarinet, Saxophone, Recorder, Flute, & Pan Flute (ages 6 & up)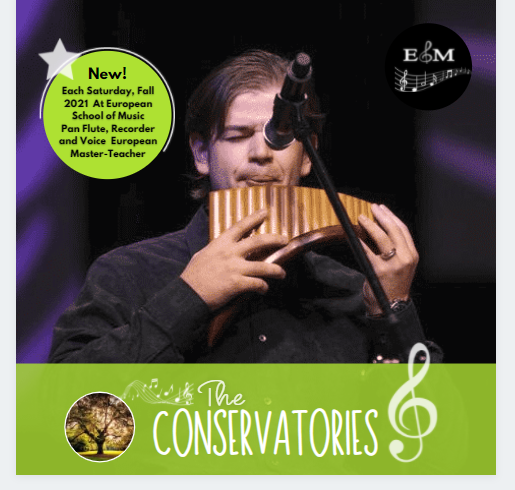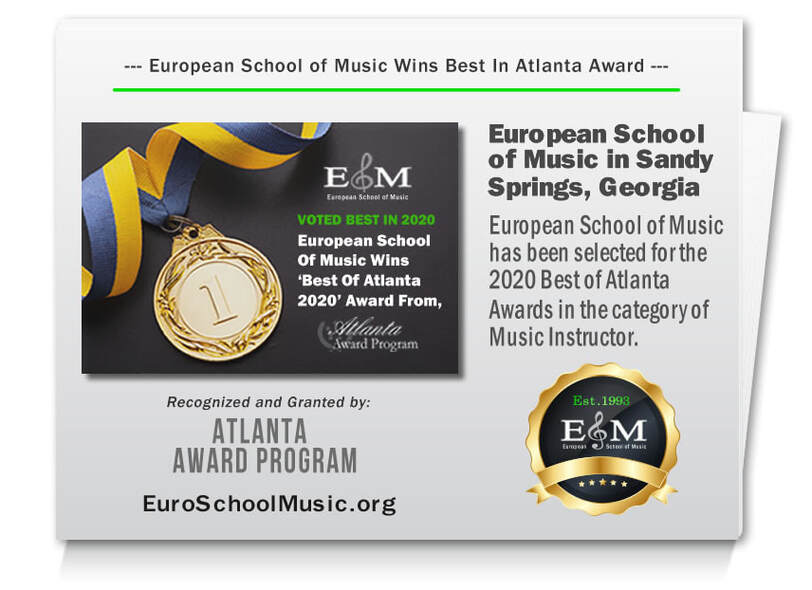 Mother's remarkable feedback after only two lessons at ESM:
"Transitioning from a different violin teacher, we just started lessons with Maria at European School of Music. And what a discovery!!! I was impressed with the professionals that operate and teach at the school. To begin with, from the very first encounter, the school director, Angela Oyzboyd, treated us with an immense amount of love, attention, and care about my son's needs and his future. That moment, I knew each child at the school is not just another student and each child is cared about in a special way to help him discover and reach his unique potential! Isn't that what every parent wants?! The truth is it is very difficult to find a good violin teacher. We are new but after just two lessons I was drawn to find this google listing to place a review. Maria is skillful with children, intelligent, patient, and extremely professional. My son's first impression was: Mom, Maria gave me so many helpful tips that make total sense!!! Both, Angela and Maria, sincerely care about my son. And, as a mother, I couldn't have wished for a better outcome! We are looking forward to a great relationship with The European School of Music!"
-Victoria
---
| | | |
| --- | --- | --- |
| | ​Jessye Norman, the American opera singers born in Augusta, Georgia, understood the value of music and art in people's lives and their spiritual depth. One of the remarkable romantic composers, Felix Mendelsohn, felt the same way in the 19th century. This value has stayed for centuries and will never lose its meaning. | |
---
​At the European School of Music, we are proud of our diverse international community of students from an array of countries like United Kingdom, France, Italy, Germany, Poland, Greece, Bulgaria, Romania, Ukraine, Russia, China, Japan, Philippines, Vietnam, South Korea, India, Iran, Ethiopia, Kenya, Jamaica, Mexico, Guatemala, Venezuela, Brazil, Argentina, and Israel. We believe that students of any ethnicity have certain inborn musical abilities that can be developed to the full potential, especially with the European music techniques and teaching traditions that we follow at ESM. Our teachers are very passionate about their work and put their whole heart into it. With individual attention and care for every student, our teachers evaluate each student in accordance to their inborn abilities and their practice. This way, our students get the best guidance for successful learning and top achievements.
​"THE SCHOOL TAUGHT ME ABOUT THE MEANING BEHIND EACH SONG, THE EMOTIONS IN IT, NOT JUST THE NOTES ... EVERYTHING THAT I'VE LEARNED AT THE SCHOOL WILL STAY WITH ME FOREVER."​
-Dr. Christina Theodoris, MD/PhD, European School of Music graduate, works at Harvard Boston Children's Hospital
"THE BEST MUSIC EDUCATION I'VE EVER HAD. I'VE TAKEN LESSONS FROM MANY TEACHERS OVER THE YEARS BUT EUROPEAN SCHOOL OF MUSIC HAS HAD THE GREATEST POSITIVE IMPACT ON MY ABILITY TO EXPRESS DEEP EMOTIONS IN MUSIC. WHEN LIFE'S DIFFICULT, I GO TO THE PIANO AND GET LOST IN MUSIC. IT'S A WONDERFUL RELAXATION." ​
​-Peter Cranwell, former European School of Music adult student, retired computer engineer
---
In the news...

European School of Music and Chess marking 25 years
by Everett Catts
When Angela Oyzboyd started the European School of Music and Chess Aug. 28, 1993, she had little money but took a risk to fulfill a huge dream.
Next week the Sandy Springs school is celebrating its 25th anniversary.

"It was my biggest dream, coming to a free country to create a music school the way I had envisioned it," said Oyzboyd, who grew up in Eastern Europe. "Looking back, I don't know how I managed to do it. No one told me how to do it. It was my vision and freedom, and my desire to bring to Atlanta the unique techniques that I mastered after many years of training with some of the best piano professors in Eastern Europe. Nothing like this existed in Atlanta. I wanted to create a place for learning music, where children and adults could learn how to play in the right way, without suffering the repetition of playing a bunch of scales, learning how to feel the music and make a beautiful sound and at the same time enjoying the learning process.

"I wanted to give students the opportunity to develop their inborn abilities to their full potential even if they don't have a noticeable music talent by adjusting to their capabilities and desires. To carry out the treasure of classical music, enriching people's lives with its spiritual wealth. To give to the next generation what I got from my teachers, so that treasure will continue to live."

Oyzboyd said music is the only thing that benefits both the intuitive and logical sides of the brain, "so it contributes to the educational development of the child." She added Albert Einstein proved her theory by playing the violin from age 6 to his death.

"My discovery of the theory of relativity was the result of musical perception," Einstein said.

The school started with just two teachers – Oyzboyd and her mother, Lyudmila – and grew to 12 teachers in the decade. The school also gave private music lessons at Jackson, Garden Hills and Barnwell elementary schools in Buckhead and Johns Creek.

The school, which was located on East Shadowlawn Road in Buckhead during its first five years, moved to a larger facility, including an acoustically designed recital hall, on Roswell Road in Sandy Springs, where it still sits. It opened with a large concert two days after Oyzboyd's birthday and two years after she moved to America.

"I established a place of art where kids could learn to combine that classical music heritage with American culture," she said. "(Learning these classical techniques enable people to play any kind of music, including popular music and jazz, and to even play it better.)"

Oyzboyd said seeing the school turn 25 is "highly rewarding because the school is my heart and my child."

"And it's especially rewarding to see the accomplishments and successes of our students, to see them 15 years after they graduated, to see what they accomplished in life, including three highly successful musicians," she said, adding she's equally proud of the graduates who took up non-musical professions.

Judging by her former students, in messages posted to the school's website (unless otherwise noted), she has certainly accomplished her mission.

"The European School of Music played an integral role in my development as a musician. I would not be where I am today without their teaching, mentorship and patience," said graduate Drew Silverstein, a Hollywood composer of several films' music and co-founder and CEO of Amper Music.

Graduate Benjamin Warsaw, PhD., a classical pianist, composer and professor of music (piano) at Georgia Southern University's Savannah campus (formerly Armstrong Atlantic State University), said, "The (school) helped shape the musician that I am today. From my studies at the school I learned how to develop my own individual voice at the piano and was offered a unique approach to music and art. The techniques and methods I acquired prepared me for my journey as a pianist in the professional music world."

Graduate Christina Theodoris, MD, PhD., a pediatrician at Boston Children Hospital, added, "The school taught me about the meaning behind each song, the emotions in it, not just the notes ... everything that I've learned at the school will stay with me forever."

Daniel Cohen, who graduated from the school in 2012, the same year he graduated from Riverwood International Charter School, is 25 and works as an analyst with Angel Oak Capital Advisors, an Atlanta financial investment firm. Cohen, who started attending the music school when he was 5, said in an interview it's had a huge impact on his life.

"I played piano all the time," he said. "I have a keyboard in my room. It's multipronged impact. The skill I still use. I used to play in a band. In high school I took AP music theory and IB music, which are both college-level classes. If I were a music major in college, those courses would have counted as credit. It really gave me a leg up in those courses on other students because the school focuses a lot on music theory.

"It helped me in my schoolwork in that aspect. Another would be my passion and appreciation for classical music. There's not a lot of 25-year-old kids who listen to Chopin and Beethoven in their spare time, but I do because I enjoy it and because I studied them."

In an interview, Cohen's father, Michael, said going to the music school helped in numerous ways.

"I think the European School of Music's unique approach to learning music helped him with his school work, especially his math," he said. "Also, when he got to play at (his regular school), it helped with his self-esteem. … Overall, it was a really good experience for his whole family. Learning to play an instrument like that is a lifetime experience. Hearing him learn to play, I'm really glad I did it. It was the best gift that I could have given to him."

Oyzboyd thanked her teachers, some of which have been there for 22 or 23 years, for their "dedication and passion." The school, which offers classes for children as young as 5, plans to offer private music appreciation lessons for children as young as 4 and a new program that will include mothers and toddlers in a sing-a-long.

The school is celebrating its anniversary with a special discounted enrollment package and will perform Sept. 22 at 3 p.m. at the Sandy Springs Festival's Cultural Corner. In addition, Oyzboyd said she hopes the school can do more public concerts like the one it performed in June at Chastain Park. Chastain has a piano provided by Play Me Again Pianos, a nonprofit that donates pianos for public use.

Also, in conjunction with the Southeast Nature Society, the school will host an event on music and nature to show the connection between the two, with a student who is a big nature enthusiast, Nov. 4 at 4:30 pm. It will include an educational talk about nature and nature-inspired composers as well as performances of their pieces by our students and teachers. Free and open to the public.

The school is also starting a new program with a student music club to meet weekly to play together popular music in an ensemble band format (piano, drums, guitar and vocal), and is inviting students to join.
​
For more information, visit www.euroschoolmusic.org or www.musiclessonsatl.com.
---
The recital video below includes two of our piano alumni, Megumi Araseki and Christina Theodoris, who is mentioned in the article above.
"...I am hoping that once I have a house I can have a piano once again so I can play all the beautiful music you have taught me. I have been able to apply techniques and skills I learned from European School of Music to my daily life too! Like how slow meticulous practice at home will allow for smoothness when you're going faster to perform; to feel entirely with your body; each note and key has a specific significance in that moment.. and so much more! Thank you for everything..."
Megumi Araseki - ESM Alumni
---