About Us
ESM has unique teaching methods, which follow the fundamental principles of classical pedagogy, and the priceless heritage of world-renowned composers and music performers.
The European School of Music method of teaching not only significantly develops musical abilities, understanding of music, and a long-lasting love of music, but also helps to develop intellectual abilities, focus, concentration, and attention--all of which help students reach their full academic potential.
The school also teaches the relaxation techniques that are extremely important in music studies and can be beneficial in every aspect of people's lives.
European School of Music & Chess, a nonprofit educational organization, was established in 1993. Over the past 20 years, ESMC has been enriching lives of people in Atlanta metro community with fine music concerts and education through music for both children and adults.
Over the past 20 years, European School of Music has been featured many times in national and local Atlanta area publications and has received grants in recognition of its contributions for music education as well as interdisciplinary development of children that helps to succeed in academic studies.
Our teachers from Europe and the United States have been working together at the European School of Music for two decades. They are highly educated and trained professionals, united by mutual teaching philosophy and European teaching method.
The high professional level of teachers at the European School of Music allows our students to achieve any goal: whether that is to learn how to play (sing) music just for fun, or to study music at a professional level.
That is why our students stay with us for many years, regardless of their age, level of interests, or personal goals, completing the curriculum and graduating from the school.
We are proud that our students have been accepted into leading colleges in the United States, such as the Boston Conservatory, Eastman School of Music at Rochester University, Columbia University, Cornell University, Amherst College, California Institute of Technology, Chicago University, Georgia Tech, and others.
"Become one with the music!" and "Expand your brain potential with the power of music and chess!"-These are the mottos that represent ESM teaching philosophy.
The most important goal of ESM is to teach students how to feel the music and truly become part of it, as well as significantly develop intellectual capabilities, through the enormous power of music and chess.
Our objective is to share with the widest possible audience the priceless heritage of world-renowned composers and music performers that enhances the public good.
As a nonprofit, 501 (c)(3), educational organization, the European School of Music depends on volunteer support as well as the generosity of the community to help fund concerts, facility services, equipment needs, and scholarships for students identified as especially gifted and students from the needy families, who cannot afford music lessons otherwise.
The ESM is grateful for donations of both time and money from our volunteers to help develop young artists and promote the teaching and performance of fine classical and contemporary music in Atlanta.
The leadership of
GetHealthyAgain.Com
, a sponsor of ESM scholarships for students with special needs and especially gifted students, brought the idea to create a program "Supporters of European School of Music", which include businesses that would like to become partners in education with European School of Music.
European School of Music is very grateful to its business partners of education for their valuable support, and would like to invite new business partners of education to join this mutually beneficial program.
With great support and encouragement from grateful parents, students, friends, and business partners in education, European School of Music will continue its mission to enrich the lives of children and adults in our community with the priceless treasure of music, which is vital for physical, mental, and spiritual well-being.
---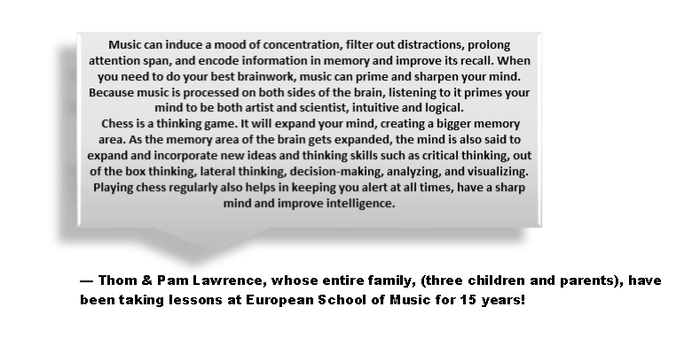 Private chess lessons at ESMC are taught by a Russian chess master.
The connection between music and chess has long been recognized, and many great musicians have also been chess players. Chopin, Beethoven, Mendelsohn, and Prokofiev are only a few of great composers who excelled at chess...but would you be surprised to learn that the list includes Ray Charles, John Lennon, and Bono, the lead singer of the Irish Rock Group U2? Members of the popular band "Phish" have even taken a chess game on tour, playing their audience with one move at each concert!
We believe that both disciplines expand the mind and the spirit in similar ways - ways that carry into all aspects of our lives , and provide the highest-level creative outlets for adults and children alike.
Music and chess instruction at the European School of Music develop:
Logical thought processes
Powers of concentration
Self-discipline
Self-esteem and self-confidence
Perseverance and tenacity
Mathematical reasoning skills
Creative and intuitive capacity
Long lasting love for music and chess
.... and all this while having fun!
The development of these positive skills through music and chess enhances other aspects of life including all forms of education.